ANTECKNINGSBLOCK

BAKKAPPA

BATTERIER

Belysning

BENSTÖD

BIVY BAGS

BYXOR

COMBAT SHIRT

BÄLTEN

BÄRSYSTEM

ELDSTÅL

FICKLAMPA

FLEECE

FÖRVARING

GLOCK TILLBEHÖR

GREPP

HAMMOCK

HANDFÄNGSEL

HANDSKAR

HANDSKYDD

HARDCASE

HOLOGRAFISKA SIKTEN

HUNDFÖRARE

HUVUDBONAD

HÖLSTER

HÖRSELSKYDD

JACKOR

JEANS

KINDSTÖD

KIT BAGS

KLISTERMÄRKEN

KLOCKOR

KNIVAR

KNIVBRYNE

KOLV/STOCK

KOMPASS

KRISBEREDSKAP

KÄNGOR

MAGASIN

MAGASINHÅLLARE

MEGAFON

MONOPOD

MULTIVERKTYG

NYLONFICKOR

PANNLAMPA

PARACORD

PATCHAR

PINS

REGNKLÄDER

RIKTMEDEL

SANDALER

SHEMAGH

SHORTS

SJUKVÅRD

SKJORTOR

SKJUTMÅL

SKOR

SKYDDSFODRAL

SKYDDSGLASÖGON

SKYDDSUTRUSTNING

SOFTSHELL

SOVSÄCKAR

SPORTSKYTTE

TAKTISKA PENNOR

TAKTISK BELYSNING

TILLBEHÖR

TRÄNING

T-SHIRT

VAPENLAMPOR

VAPENREMMAR

VÄSKOR

VÄST

YXOR

ÖVERLEVNAD

ÖVNINGSVAPEN
Windlass tourniquets, like the combat proven CAT and TacMed Solutions SOFTT-Wide, required bulky cases or pocket carry with rubber bands. Some people also resorted to ineffective gimmicks like slim elastic bands marketed as "tourniquets", which often prove difficult to operate with one hand or might not adequately occlude blood flow.
The Flatpack solves all of those problems. Simply flat-fold your tourniquet of choice, strap it to the backboard, adjust the cord tension to your preference, and carry however you want. The Flatpack comes with two soft loops installed for horizontal belt and MOLLE carry. The loops can be easily removed, making the Flatpack a slim, easy to access pocket alternative to slow and cumbersome rubber bands. Attach an optional MALICE clip for vertical belt or MOLLE carry and add the optional high-viz deployment pulls for faster access with gloves or when installed on crowded carriers or belts.
Produkter som intresserade dig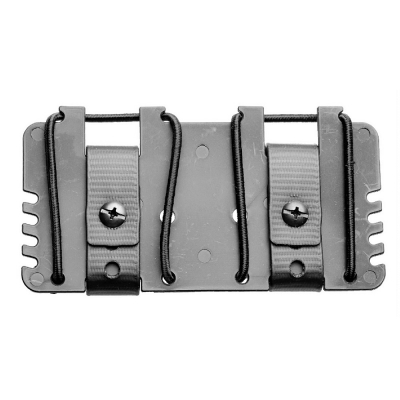 385 kr
The Flatpack is the most versatile and lowest-profile tourniquet carrier available and it eliminates any and all excus...