ANTECKNINGSBLOCK

BAKKAPPA

BATTERIER

Belysning

BENSTÖD

BIVY BAGS

BYXOR

BÄLTEN

BÄRSYSTEM

CHEST RIGS

COMBAT SHIRT

ELDSTÅL

FICKLAMPA

FLEECE

FÖRVARING

GLOCK TILLBEHÖR

GREPP

HAMMOCK

HANDFÄNGSEL

HANDSKAR

HANDSKYDD

HARDCASE

HOLOGRAFISKA SIKTEN

HUNDFÖRARE

HUVUDBONAD

HÖLSTER

HÖRSELSKYDD

JACKOR

JEANS

KINDSTÖD

KIT BAGS

KLISTERMÄRKEN

KNIVAR

KNIVBRYNE

KOLV/STOCK

KOMPASS

KRISBEREDSKAP

KÄNGOR

MAGASIN

MAGASINBRUNN

MAGASINHÅLLARE

MONOPOD

MULTIVERKTYG

NYLONFICKOR

OUTLET

PANNLAMPA

PARACORD

PATCHAR

PINS

PLATTBÄRARE

REGNKLÄDER

RIKTMEDEL

SANDALER

SERE

SHORTS

SJUKVÅRD

SKJORTOR

SKJUTMÅL

SKOR

SKYDDSFODRAL

SKYDDSGLASÖGON

SKYDDSUTRUSTNING

SOVSÄCKAR

SPORTSKYTTE

TAKTISK BELYSNING

TERMOS

TILLBEHÖR

TRÄNING

T-SHIRT

VAPENDELAR

VAPENLAMPOR

VAPENREMMAR

VATTENFLASKA

VÄSKOR

VÄST

YXOR

ÖVERLEVNAD

ÖVNINGSVAPEN
To install the AHK3-rf:
Simply position the channel of the key over the shock-cord
Pull and stretch the shock-cord
Insert shock-cord inside the key
Release the cord
The shock-cord will expand to its normal size inside the key.
To remove the AHK3-rf:
Hold the shock-cord
Pull on the key to extract the shock-cord from the channel.
Your AHK3 is now ready to use...
The AHK-rf works just like any other AHK3 to counter the security features found on high security handcuffs (key blocking blade, large keyway pin,
deep set keyhole etc.) The AHK3 has a full depth slit in the key flag to counter the stainless steel security plate on ASP High Security handcuffs.
From December 2020 we manufactured the AHK3 with the addition of a groove to indicate the direction of the key-flag when it's inside the key-way.
This new version has been in circulation since January 2021. The AHK-rf also features the groove.
Note: Where the AHK3 is sold as the 'Delta Key' it will be the older style AHK3 without the groove and channel.
The AHK3 works on the following handcuffs plus more that share the common key-way:
- ALCYON
- ASP
- CLEJUSO
- HIATTS
- KYOUNG CHANG
- PEERLESS
- RALKEM
- RUSSIAN BRS-1
- SMITH & WESSON
- TCH
- UZI
- WALTER
- YUIL
The AHK3 also operates handcuffs that have a bent pin in the keyway that would otherwise block a standard handcuff key.
Produkter som intresserade dig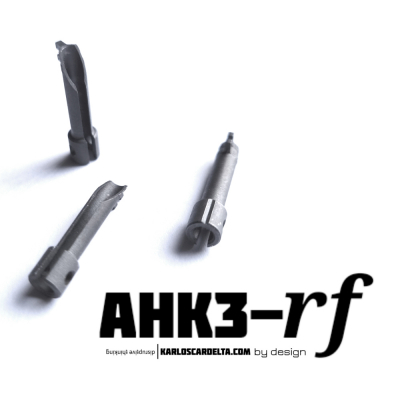 99 kr
This is the latest version of the AHK designed to retrofit to the GTFO-Wrist-Strap without the requirement to undo the...