ANTECKNINGSBLOCK

BAKKAPPA

BATTERIER

Belysning

BENSTÖD

BIVY BAGS

BYXOR

BÄLTEN

BÄRSYSTEM

CHEST RIGS

COMBAT SHIRT

ELDSTÅL

FICKLAMPA

FLEECE

FÖRVARING

GLOCK TILLBEHÖR

GREPP

HAMMOCK

HANDFÄNGSEL

HANDSKAR

HANDSKYDD

HARDCASE

HOLOGRAFISKA SIKTEN

HUNDFÖRARE

HUVUDBONAD

HÖLSTER

HÖRSELSKYDD

JACKOR

JEANS

KINDSTÖD

KIT BAGS

KLISTERMÄRKEN

KLOCKOR

KNIVAR

KNIVBRYNE

KOLV/STOCK

KOMPASS

KRISBEREDSKAP

KÄNGOR

MAGASIN

MAGASINBRUNN

MAGASINHÅLLARE

MONOPOD

MULTIVERKTYG

NYLONFICKOR

OUTLET

PANNLAMPA

PARACORD

PATCHAR

PINS

PLATTBÄRARE

REGNKLÄDER

RIKTMEDEL

SANDALER

SERE

SHEMAGH

SHORTS

SJUKVÅRD

SKJORTOR

SKJUTMÅL

SKOR

SKYDDSFODRAL

SKYDDSGLASÖGON

SKYDDSUTRUSTNING

SOFTSHELL

SOVSÄCKAR

SPORTSKYTTE

TAKTISKA PENNOR

TAKTISK BELYSNING

TERMOS

TILLBEHÖR

TRÄNING

T-SHIRT

VAPENLAMPOR

VAPENREMMAR

VATTENFLASKA

VÄSKOR

VÄST

YXOR

ÖVERLEVNAD

ÖVNINGSVAPEN
OscarDelta | APEK 5.2
The Advanced Personal Escape Kit allows for essential restraint escape tools to be neck carried out of sight but ready for immediate deployment. A shirt or polo shirt will aid concealment. When travelling it is not necessary to remove this necklace when passing through airport security. This is probably the one item of 'escape equipment' that you will have with you 24/7 regardless of what you are wearing or doing. After time it will become a carry habit, very much like wearing a watch - when you do forget to put it on you will know the difference!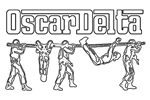 Pris
Specification:
Tech 205 Cord (Escape Necklace) for use as a friction saw to cut through non-metallic restraints when restrained to the front.
There is no preparation required (knots to tie etc.) ...
- Feed one end of the cord through the restraint until it reaches one of the knots.
- Place the foot loops over the toe part of your shoes or if barefoot between the big toe and increase the tension of the cord so it
positions itself on the lower part of the restraint to avoid friction injuries.
- Now move your feet in a slow pedal motion and gradually build up speed.
- The heat from the friction will burn through the restraint.
- For oil treated natural rope such as hemp (or if submerged under water) little or no friction will be generated; however the knots will cut through the material.
Tip: For silently removing cable-ties and nylon rope you do not need to use the cutting knots. Keep within the two knots to keep the noise to a minimum.
Produkter som intresserade dig