BAKKAPPA

BATTERIER

Belysning

BENSTÖD

BIVY BAGS

BYXOR

BÄLTEN

BÄRSYSTEM

ELDSTÅL

FICKLAMPA

FLEECE

FÖRVARING

GLOCK TILLBEHÖR

GREPP

HANDFÄNGSEL

HANDSKAR

HANDSKYDD

HARDCASE

HOLOGRAFISKA SIKTEN

HUNDFÖRARE

HUVUDBONAD

HÖLSTER

HÖRSELSKYDD

JACKOR

JEANS

KINDSTÖD

KIT BAGS

KLISTERMÄRKEN

KLOCKOR

KNIVAR

KNIVBRYNE

KOLV/STOCK

KOMPASS

KRISBEREDSKAP

KÄNGOR

MAGASIN

MAGASINHÅLLARE

MEGAFON

MONOPOD

NYLONFICKOR

PANNLAMPA

PARACORD

PATCHAR

PINS

REGNKLÄDER

RIKTMEDEL

SANDALER

SHEMAGH

SHORTS

SJUKVÅRD

SKJUTMÅL

SKOR

SKYDDSFODRAL

SKYDDSGLASÖGON

SKYDDSUTRUSTNING

SOFTSHELL

SOVSÄCKAR

SPORTSKYTTE

TAKTISKA PENNOR

TAKTISK BELYSNING

TILLBEHÖR

TRÄNING

T-SHIRT

VAPENLAMPOR

VAPENREMMAR

VÄSKOR

ÖVERLEVNAD

ÖVNINGSVAPEN
KAC's line of Micro Iron Sights are currently in use by the United States Army, Marine Corps and numerous law enforcement agencies worldwide.

This is because they are built to exacting tolerances, maintain their zero under adverse conditions and, when folded, have one of the lowest profile top-rail footprints in the industry.
Produkter som intresserade dig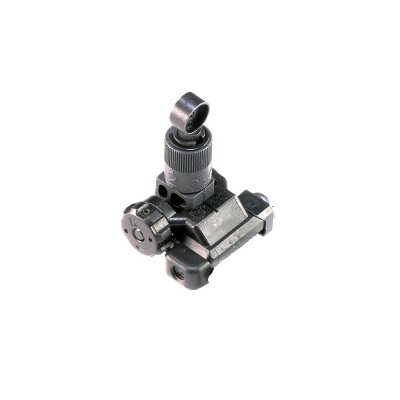 2150 kr
The highly versatile 200-600 Meter Micro Rear Sight features a finger-adjustable, rotating drum that enables shooters ...